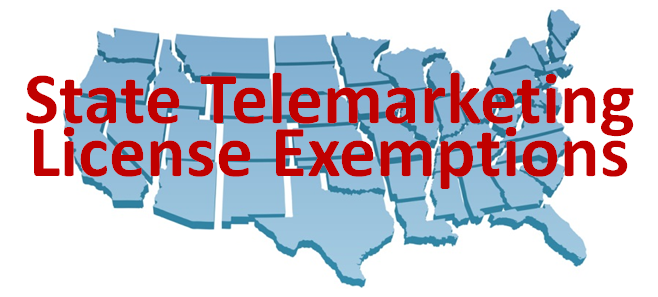 In addition to the state DNC rules and lists, many states have local telemarketer licenses and bonds. Because there are so many exemptions in telemarketing licensing—it's worth looking into to see if you qualify for a few. Telemarketing Defense Attorney Eric Allen tells us more...
Also: Watch Bob's Video on State License Exemptions
This video is for informational purposes. Be sure to consult your own attorney for questions specific to your business.
Many professional phone marketers are surprised to know: State telemarketer registrations/licenses have nothing to do with the Do Not Call rules or lists.

They are totally separate. But they do offer many telephone solicitor registration exemptions. Some states exempt you if you make business-to-business (B2B) calls, for example. Or if you have a big physical retail presence. Some states exempt you if you're calling based on consent, or if you're not using any prize promotions. If you're not doing sweepstakes, or contest premiums in California, for example, you can save a lot of money on the telemarketing license there.

Select states have registration exemptions for companies who only call their current and former customers. Be careful - whether you qualify may depend on how recent the customer's prior purchase was, and exactly what they purchased. Some of these states only allow the exemption for calls to customers who are receiving continuing services from you.

If your offshore call center is calling into states requiring registrations, it will need a license for those states into which it calls—unless it's a free state, where no license is required, or if you qualify for an exemption.
State Telemarketer Registration Enforcements vary.
In some states, licensing is a huge deal, like here in Florida for example. In other states there are no known enforcements. It's more of a tacked-on violation in those states. But you should investigate and comply. And the bigger your company, the more exposure you may have.
A few states can undo all your deals during any period during which you are unlicensed. Arizona is an example. In Nevada, although prize promotion is on the books, they are not currently enforcing it. During the recession in 2008 they fired their entire consumer protection division. And it's official. They put it on their website and in their regulations, "We're not going to enforce that statute right now."
In most states, it's just the business as a whole that needs the phone solicitation license -
Depending on where they are calling from, and where they are calling into. But some, like Florida, require an individual license for each agent, in addition. I have clients who have a physical call center floor along with a whole bunch of work-at-home reps. And to be fully compliant my client's business entity needs to be registered everywhere that the agents are sitting (calling from) and in every state they are calling into. And with a handful of states each individual telemarketer is required to be registered separately. These include Florida, Alabama, and Maine.
So there's a huge variance here. You've got states like Vermont, where all they want is your check. And you can put a smiley face on the signature line of your single page form and you'll get your license. Then you've got states like Utah, Florida, and Ohio with 40 to 50 page applications. In California, their license and bond is very, very expensive for example.
In Summary:
In addition to your Federal, State and Wireless DNC scrubbing procedures (Here's our Blog on "6 Tips to keep your Independent Agents from getting Do-Not-Call Fines"), State registrations and exemptions are extensive - and wrong information can cost you here. But professionals like Licensed Real Estate Brokers and Licensed Insurance Professionals (Here's our blog on "DNC TCPA Compliance Checklist for Single Agents using the phone") can save a lot of money in the right locations. Certain exemptions depend on you obtaining very specific permissions, or inquiries that are within a particular window of time. So make sure to run your exemption ideas by your DNC Law Attorney or Certified DNC Compliance Consultant for approval before implementing into your daily calling initiatives.
(Bob: For an extensive free resource on state telemarketing licensing and exemptions, Eric's site Telemarketing Licenses can't be beat!)
Have some advice on handling State Registrations and Exemptions? - Please do participate below! - and Thanks.