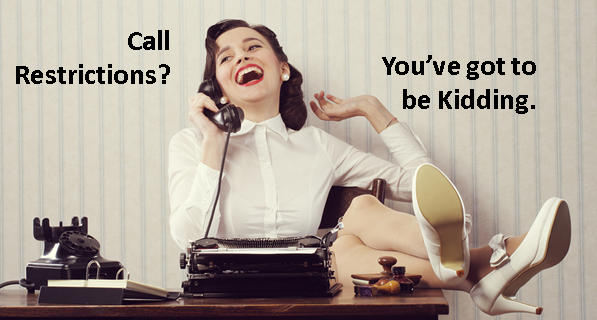 Believe it or not, we still get calls every day from both captive and independent insurance agents and their offices wondering how the Do Not Call Laws apply to them, how to protect themselves, and what happens if something goes wrong.
How to Protect Multiple Agents from DNC/TCPA
This video is for informational purposes. Be sure to consult your own attorney for questions specific to your business.
Part of the problem is that many insurance companies tend to have unrealistic in-house Do-Not-Call procedures (if they have any at all).
Here's an example of an unusable number identification procedure for independent agents from a major life insurance company
"General Agents must submit other telephone numbers (e.g., lead lists) to the Home Office to be uploaded and cross-referenced, or scrubbed, against the National and the Company's internal Do Not Call lists. These telephone numbers are processed and returned within seven business days. Any telephone number found on the National or the Company's internal Do Not Call list is removed prior to being returned."
Huh? Seven business days? You've got to be kidding, you may be thinking. I need to sell NOW. And what about the state lists? What if someone asks me to send a Do-Not-Call policy? What about cell phone numbers? And you're going to remove some of the numbers altogether? How do I flag them for DNC?
What not to do: Follow chat-room compliance advice!
Adding to the confusion, when they go looking for help complying with the Do-Not-Call regulations, independent agents often receive disastrous advice. Here's an example from an Internet forum for mortgage agents:
"After you have accessed the National Registry and downloaded telephone numbers the first time, you'll have the option of downloading only changes in the data that have occurred since the last time you accessed the registry. Then just look for a Free company to process the numbers."
Free what? Proper preparation and maintenance of DNC Policies and company specific internal lists just isn't free—not unless you want a noncompliant mess on your hands! And what about archiving those DNC numbers on the National Registry in the time frame and format the FTC, FCC, state attorneys general, or courts will want them should a problem occur? (Oops, forgot the state lists again!)
So Agents just give up on Compliance
It's no wonder many independent and captive agents don't actually use DNC compliance systems at all. Although some companies have acceptable internal procedures, eventually someone forgets to re-register their state list, or the IT guy goes on vacation during a state holiday when calls are prohibited, or no one can remember where the DNC agent training results got filed.
All of these elements need to be in place if you're called upon to defend your calling procedures by government agencies. If you have all your DNC policies, procedures, and enforcements in place and can prove it day in and day out, you're allowed to make a mistake, either mechanical or human. This is called "safe harbor." But a reliable Do-Not-Call safe harbor is almost impossible to achieve using your own internal resources, as state laws (which override federal laws) are constantly changing. Throw in the Consumer Financial Protection Bureau's constant reinterpretations of the Telephone Consumer Protection Act and the associated class action lawsuits, and you've got a road full of landmines when reaching out to consumers.
By the time they contact us, independent agents tend to ask, "How do I create my own internal system to scrub against the DNC list?" That's not the right question. What they should be asking is, "How do I comply with the Do-Not-Call laws?" (See our page "DNC Quick Check for Offices and Remote Agents.")
A 6-Point Checklist for an Effective Insurance Agent DNC Scrubbing Solution:
The first thing you need to do is find a compliance service provider that's been around a while. The provider you choose should have a quick, easy-to-use, and inexpensive scrubbing tool that:
Can perform instant scrubs against all state, federal and wireless calling lists (in the five states that ban wireless calling).

Scrubs numbers one at a time or up to 100 at a time.

Archives and dates results and makes them available to government agencies as needed.

A Do Not Call policy!

Creates and maintains your company-specific internal Do Not Call list.

Sends ongoing email reminders on DNC prohibition holidays in the various states and updated law changes that affect you.
Remember: Buried somewhere in your agreement with the companies, products, or services you represent is probably some version of the disclaimer: "You're responsible for all Do Not Call Laws and TCPA Compliance." (See our blog "9 Reasons your Company doesn't care about DNC TCPA Laws, even though they should.")
If a DNC violation occurs, rest assured the company's legal team will not hesitate to take a serious look at terminating whatever ongoing residual or other financial arrangements you may have built up over the years!
What do you think - Please feel free to participate below! -