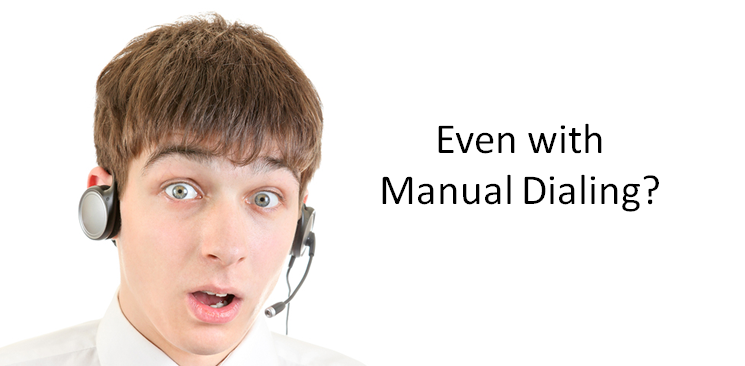 While the federal government prohibits making cell phone calls using automatic dialers, five states do not allow telemarketing calls to cell phone numbers at all - even with manual dialing. And this list of mobile no call states will probably expand as more and more consumers express annoyance with receiving marketing calls on their cell phones.
As an independent agent calling consumers and/or businesses, your challenge is how to identify and avoid calling cell phone numbers in these states. After all, they might not be on any Do Not Call list at all.
Accurate Cell Identification - click to watch video
This video is for informational purposes. Be sure to consult your own attorney for questions specific to your business.
Some large financial institutions face this same challenge, but they have access to huge databases that can cull out these pesky cell phone numbers from these five states.
But what about an individual insurance agent, financial services provider, real estate agent, mortgage broker, or other professional making calls on their own? Even businesses calling other businesses are subject to these new regulations. It doesn't matter how the cell phone number is registered (consumer or business); it just matters that it's a cell!
3 keys to your DNC Number Checking Procedure:
First check against the national Do Not Call list based on your Subscription Authorization Number. Some of these numbers will be cell phones (in fact, lots of them!) as the general public just puts their number on the DNC list. And the national Do Not Call list does not make a distinction between landline and cell. (See our page: "Do-Not-Call List Scrubbing.")

Then, check against state lists. You're checking for state Do Not Call Numbers here. Again, this will include some cell phone numbers also. But when the owner signed up for their state list, they also didn't make the distinction.

Next, scrub for all cell numbers in the states in question. At this point they include Arizona, Louisiana, New Jersey, Texas and Wyoming. Probably lots more will follow, so you'll need to keep up to date on the latest bans on hand dialing cell phones (as opposed to ATDS dialing) without written permission. (See our page: "Cell Phone Scrubbing: Are you sure you're doing it correctly.")
The challenge?
As an individual or office trying to reach out and sell your wares, you're not going to have easy access to all these lists, especially for just a few calls to just a few area codes.
You'll probably want to find help in this area.


Properly Identify Banned Cell Numbers Via a Third Party:
Look for a company that has a specific "single user" product to identify DNC numbers and scrub cells in these five states in one pass.

Make sure the product allows you to easily enter from 1 to 100 numbers in bulk, which speeds up the heavy lifting considerably.

Make sure the look-up is quick. You don't want to wait around for the results.

Make sure your efforts are properly archived should you need them.

Stay away from vendors that are "FREE" or want you to download national and state lists yourself.

Be sure to ask, "Do you identify numbers from the five states that have banned cell phone calls without written permission?"
The last one is important, because most DNC number-checking tools allow cell phone numbers to pass through. Why? Because cell calls made by hand have been, up to now, exempt from the DNC if not on any state, federal, or your own company specific in-house list. (For more, see our page "DNC Quick Check for Offices & Remote Agents.")
As over two-thirds of folks have put their numbers on state and federal DNC's, regular federal and state DNC scrubbing will catch a lot of cells. But for those that didn't, in these five states, you'll want to make sure those particular wireless numbers are identified, archived and available in the timeframe and format the state requires should a problem occur. And yes, predatory attorneys are aware of the increasing liability exposure in this area, as we continue to see an uptick in state litigations.
For more information on scrubbing cell phone numbers from Arizona, Louisiana, New Jersey, Texas and Wyoming, contact Bob at 561-317-3001 or email here.