You say your leads are "compliant," yet have no idea what your broker's lead form looks like, how old these leads are, or who else has purchased them. Leads that could turn around and sue you for everything you've got. Today, without a complete visual history of prospect intent as part of your lead procurement process, you're not fully protecting outbound call efforts against class actions in the millions.
Top Attorney Christine Reilly Co-chair, TCPA Compliance and Class Action Defense Litigation for Manatt, Phelps and Phillips LLC reminds us:
"When you purchase a lead, you basically own it - and are responsible for it. So be careful."


Listen to Technical Lawyer of the Year and TCPA Defense Expert Dino Tsibouris talk about the importance of a complete visual history of prospect intent.

Many lead brokers will be quick to dismiss your well-founded fears:
"We've never had a problem."

"We've always done it this way."

"We have 200 sites collecting our leads."

"These are all 'opt in' (whatever that means)."
It's tough to beat an actual visual rendering of everywhere the prospect went on your lead form!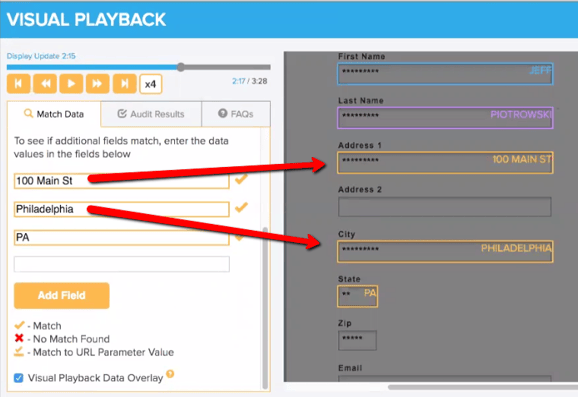 100% of lawyers attending the September 2015 Washington D.C. Compliance Summit were defending some sort of lead procurement altercation.
Third party broker lead purchases can be problematic. Some consumers have been known to set traps for unsuspecting telemarketers and lead compilers. Filling out forms with the intention of finding something wrong with the way you're reaching out. How information is collected. Including the number of times you call back, or your method of returning calls - whether Automatic Telephone Dialing System or Manual.
What situations would Lead Visual History work for me?
Your the lead middleman. You get leads from suppliers all over the place. You simply have your supplier use the free app for gathering encrypted or "hashed" lead information. When you sell the lead, your client can then pay to have access to that critical information should they ever need it. Usually at the request of a legal inquiry of some kind.

You're a big company that reaches out to potential clients. A big target for legal challenges under the TCPA statutes. Again, you simply ask the free Google analytics app with encrypted visual lead data information is included from your lead broker in the collection process.

You collect your own leads. You want to go the extra compliance mile with third party visual representation that you did everything right - and would prefer predatory attorney just walk away from challenges.

A standardized lead collection practice including visual representation at the lead source - a witness to the event - is the best way we know of to ensure your TCPA safety in reaching out. Allowing you to take advantage of the biggest exception to the Do Not Call and TCPA Laws: Express Written Consent. Which, unlike Existing Business Relationships (which expire), will never expire unless expressly conveyed by your prospect or client.
For more information on the value of a complete lead history of prospect intent, just call me at 561-317-3001 or email here - Bob

Article Update April 21st, 2016: Because of the increase in TCPA fines today, up 38.9% this January over last, we've included the video "Astonishingly Safe TCPA Sales Lead Solution for Dialers" to help with safe lead gathering. The video discusses new technology affording a complete visual history of prospect intent. "Prospect intention" is something the FCC has recently become concerned with - and goes a long way towards proving consent before calling. In fact, it's the most successful method afforded us to date.

Related Articles: