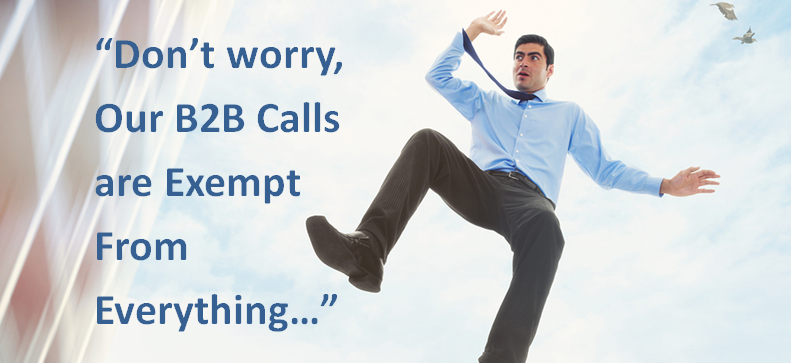 If you're making B2B calls, at least scrub for former TCPA Litigants. One of our clients scrubbed 13,000 numbers against our Previous Litigator list last week and got 35 hits. 35 pros you wouldn't want to call. What are these guys doing on Business to Business calling lists anyway? Seems lots of cells are being picked up as business lines from social media sources lately. Data Compilers have access to previously hidden mobile numbers at Linked-In and Twitter and include them in company searches.


How to Avoid TCPA & DNC Litigators - Click Video
This video is for informational purposes. Be sure to consult your own attorney for questions specific to your business.
Cell numbers on these social media sourced lists are reeking havoc with the B2B calling today. And folks calling other businesses are easy for DNC TCPA lawyers to prosecute - as they have the fewest legal protections in place.
So at least rid your calling list of these most egregious offenders of the TCPA. The ones you will lose to in court. And like most B2B's, you're probably not taking additional compliance steps; like scrubbing against the National Registry for Free. Or archiving cells to make sure you call them by hand.
States have also caught the B2B regulatory bug. Many have laws that go beyond the Federal when it comes to soliciting other businesses.
Compliance denial has become more dangerous for B2B's.
"We're exempt from the TCPA Cell Laws."
That all changed October 16th, 2014 when the FCC amended the TCPA to make cell ownership consumer agnostic.
"We're exempt from the DNC Laws."
Except those cells you want to avoid altogether – not even call by hand – are the ones that are on the DNC list. And nobody's exempt from those calls today.
"But we only call cell phones by hand."
Oh really. That's tough to do when you don't even scrub, identify and archive wireless numbers. And if you do, is a scrub performed before each campaign, or was that one scrub last year from the list company good enough?
"Our listing company has all that handled."
That's what you're going to tell the CFPB when they come to audit your cell calling practices? That's not going to go well.
"All of our calls are previous relationship calls."
So you have dated records of last orders, recent calls, and express written permission to call statements? – And your performing Reassigned Number Right Party Verifications, correct?
"You don't understand our business model."
It won't matter what kind of business model you have if some smart predatory B2B attorney puts you out of business.
Litigator List Scrub
So at least get rid of the people that will take you out for sure. The ones that will call back and say, "Let me speak with whoever writes the checks over there." Your CFO is likely no match for a seasoned DNC and TCPA Litigant veteran. Praying on unsuspecting contact centers and sellers. Serial lawsuit filing plaintiff firms purposely opting into lead generation programs and online forms to solicit calls and texts they will turn into TCPA and class action suits.
But you're B2B right? I almost forgot.
You're exempt from everything! Ha -
For the straight scoop on prudent protections for your B2B calls, without losing lots of numbers from your calling lists, contact me on my personal line at 561-317-3001
.
Related Articles: