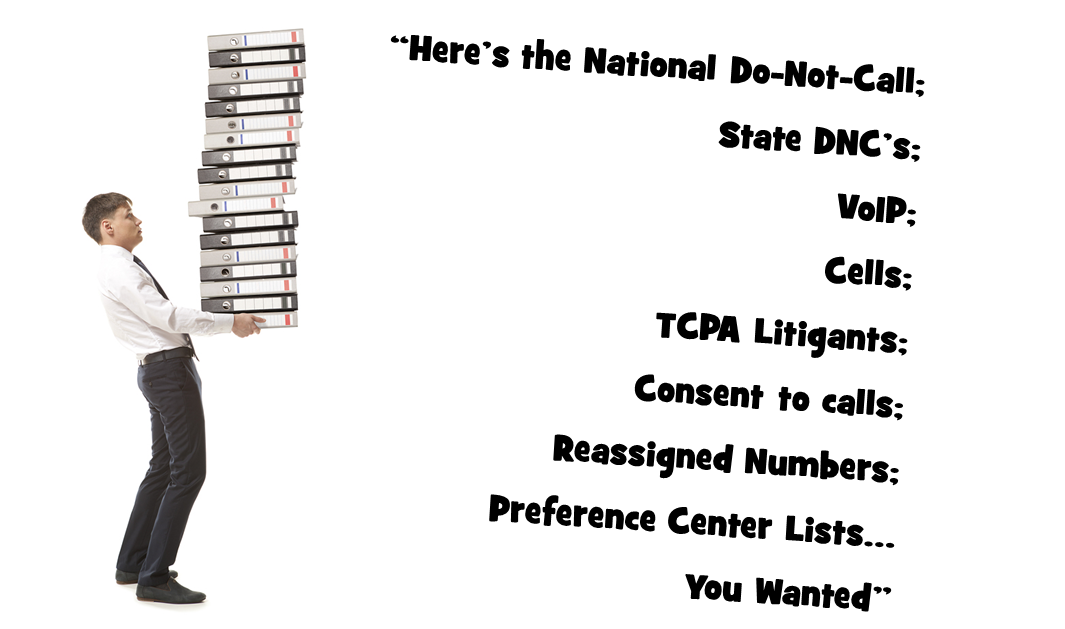 I get a lot of calls asking this. "Bob, how do I get ahold of the DNC?" or "I'm all set with the National list, but how do I get ahold of all the State DNC lists?"
But what they really want to know is, "As a telemarketing professional, how do I stay compliant with the various Do Not Call Lists – and Laws!"
If you "get ahold of" a Do Not Call List—
The National Registry for $17,000 per year, the 14 or so State Lists for around $3,000, the DMA wireless prefix block, or the Neustar portability list for $1,300—,it probably won't do you much good unless you're a giant company with a full-time IT and Compliance department. Because now you need to cull through all that info to NOT call the wrong numbers! And you need to archive it.
In addition, to achieve what you really want



Squeaky clean, no kidding, get-out-of-jail compliance with all DNC laws—you'll need a handful of other things AFTER registering with the National DNC List to get your Subscription Authorization Number, and with the appropriate State lists:
A Do Not Call Policy to send out on demand, preferably by certified mail.

A Company-Specific In-House Do Not Call List.

Agent training.

All policies, procedures and enforcement available in the timeframe and format required by the FTC, FCC, State AG and courts.
Unless you have ALL these pieces, you won't be able to survive a Safe Harbor Assessment
"Safe Harbor," in Government Do Not Call parlance, means you have the required daily DNC procedures performed and have archived and can prove these efforts. This is where even the largest corporations can fall short with DNC protection. If an IT officer goes on vacation or is sick or is replaced, or if State laws change, or renewal registrations are not handled, BANG!—you're guilty!
And you're dealing with consumers here. We don't know what they're going to do! Are they really on the lists they claim when we call them? Do they even know what they filled out? One things for sure, if they THINK they are or should be on a DNC list and you call, for sure they can ruin your day.
And rest assured, your State Attorneys General doesn't have the staff to check every complaint before he or she issues you and your business a DNC complaint.
By the way, life as you know it will change on the day a Certificate of Demand letter arrives...
from your local State Attorney General asking you to respond. Calls I made? What calls, I don't know. Scrubbing? What's that? Registrations? Huh?
Sound far-fetched? I get these calls all the time, and now with the Consumer Financial Protection Bureau taking it upon themselves to interpret the Telephone Consumer Protection Act as they like. With private right of actions seeking class action certifications in the courts—and getting them to the tune of millions of dollars in fines.
So the old adage, "You need to ask the right question to get the right answer," applies here. The right question here is based on how the Do Not Call multiple lists and related scrubbing and archiving laws are set up. What will make a profound difference in your DNC Compliance efforts is knowing the game.
Unfortunately, the way the Government set up these DNC Laws, you can't effectively protect yourself without outside help.
I'm not saying that because I'm the Do Not Call guy. I'm saying that because I'm the one you'll call in disbelief that you can't just download a list and check it yourself and have a get-out-of-DNC-jail-free card.
I'm telling you so you won't be in shock when a Certificate of Demand letter lands on your desk from your State AG and leaves you wondering what you did wrong. And, looking back, how little it would have cost to outsource this stuff!
For more information on the Do Not Call and related laws, challenges and solutions call Bob at 561-317-3001.