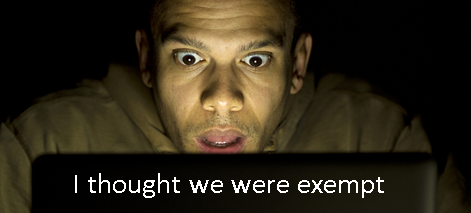 Unfortunately, if you use the phone, the FTC, FCC, and State AGs, along with the Consumer Financial Protection Bureau and Telephone Consumer Protection Act, consider you a telemarketer. And hey, you may feel safe with your calling and follow-up procedures now. But how unfortunate if you're selling, say, deregulated electricity to several states and a cell phone owner decides to bring you to court with his or her predatory attorney.
The first question asked will be "do you scrub for cell phones?"—as of October 16 when the law changed to require written permission on auto assisted and automatic telephone dialing system/voice broadcast calls.
Other DNC questions to companies only taking Inbound Calls, and Callbacks, will include:
And are you registered with the National Do Not Call Registry as a telemarketer?

Do you have your policies, procedures, and enforcements available in the timeframe and format the FTC, FCC, State AGs or lawyer taking you to court will require.

Do you maintain a company specific in house list of customers that says, "I'm not on the DNC list, but don't call me anymore"?
Unfortunately, just because you're fielding mostly inbound calls doesn't make you exempt from the DNC & TCPA.
Worse, as the CFPB continues to re-interpret the TCPA, we're seeing the emergence of class action certifications in these suits. And the Business to Business arena seems to be most vulnerable. We currently have a suit based on a cell phone call from a company selling web site optimization. The problem: How the cell phone owner registered his phone, whether as a consumer or business, is irrelevant now, since the cell laws changed October 16th.
And the consumer has been oversold to expect zero calls from businesses, creating a high propensity to complain. The CFPB looks for and encourages these complaints, but has no verification process as to who is right—the solicitor or cell owner. And the fines and punishments are so out of whack with the inconvenience factor caused by the call.
Lawyers make most of the money.
And many settlements are completed out of court or never go to court, so you don't hear about them. A kind of blackmail is encouraged, as it costs more to go to court than to just pay an attorney off. One of our top TCPA lawyers simply says he doesn't expect the companies he represents to be compliant. The companies wait until they get caught and pay up. Of course this makes the lawyers more money. But with class actions, you're talking about potential fines in the tens of millions of dollars, as well as going out of business.
Particularly vulnerable are business to business companies with no cell calling procedures and enforcements in place to survive an inquiry or suit from predatory attorneys on outgoing call initiatives. See: "Is B2B Marketing Exempt from Cell Phone Compliance?"
This will become worse before it gets better...
As cell phone owners become more savvy and well educated in punishing businesses for reaching out, or—in the case of inbound marketers—reaching back!
So don't fool yourself into thinking that because you only field inbound inquiries and make callbacks you're exempt from the Do-Not-Call and TCPA Laws. If you're using the phone, you have exposure there - and need to be pro-active in your registration and compliance procedures. Document and date your existing business relationships and consent to calls. Have records available in the timeframe and formats required by State and Federal Agencies. See: "Do Not Call List Scrubbing."
You'll be glad you did should a problem occur.
What do you think? - Is your inbound call center registered and protected for calling back the wrong person? - Comments welcome below -