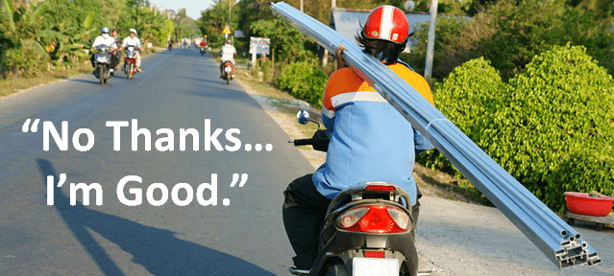 "My List Broker says he scrubs for Do Not Call," says Marty Turville, President of Pure Water, LLC in North Carolina*. "But I don't know about that. He never asked us for a SAN (National List Registration), and we don't scrub for cells. And I know we're in one of the most challenging Do Not Call States." Marty is right to be concerned. Without proper National and State Registrations, his compliance efforts probably won't hold up in court. Worse, judges can take that as a sign you're trying to circumvent the laws. Changing $500 non-intentional fines, into $1500 intentional fines. Per incident. And potential class actions in the millions.


Is it safe to call Brokered Lists? - Video
This video is for informational purposes. Be sure to consult your own attorney for questions specific to your business. (Special thanks to Christine Reilly for the content in this video - Partner and Cochair of the TCPA Compliance and Class Action Defense practice of Manatt Phelps and Phillips)
Local Marketers like Marty have advantages inherent in the Do Not Call and TCPA Laws.
It appears the FCC wants to give local entrepreneurs an advantage here. For example, the first five area codes Marty registers for on the National List are free. For his business, that covers virtually all his calls. Also, he's not using a dialer. So he can call cells if they're not on the National or State DNC lists. And he should identify and archive or "scrub" them to help with any potential legal challenges down the road.
It's amazing in this litigious environment, where companies are going out of business via class action compliance issues – that a listing broker would say in good conscience to a young energy reseller, or software salesperson, "Don't worry, we've already scrubbed our lists. They're TCPA and DNC compliant." Compliance is a pro-active gig. By the time you receive a certificate of demand from your States Attorney General, it's too late.


Do I need a Do Not Call Policy?
To survive a "safe harbor" government audit or private right of action, you'll need a Do Not Call policy sent out on demand via certified mail when someone asks for it. This is usually a Lawyer trying to get you in trouble, as nobody really wants a copy of your DNC policy! Often this request gets confused with the more common, "Bob, I'm not on the Do Not Call List, but don't call me anymore." Those numbers need to be added to your internal company-specific DNC list. And you'll need all these policies, procedures and enforcements available in the timeframe and format agencies might require.


Did we mention State lists?
The second most significant area of litigation on DNC and TCPA altercations, behind permission calling, are State disputes. "Mini-TCPA" state laws are constantly changing and trump the National DNC. States continue to be aggressive in this area, and coffers continue to be enriched. If your listing or scrubbing service doesn't include these changing State algorithms, your defense isn't going to go well when challenged.
Should I get a litigant scrub, or is that just hype?
We've seen professional serial consumer litigants cause a world of hurt lately. And it's going to get worse as the FCC arms consumers with even more rights, as they did on June 10, 2015. The CFPB continues to solicit complaints on their website. The biggest criticism from businesses? Consumers are always right - Even when they are not. See our page: Litigator Scrub.

What's the solution?
When dealing with "pre-scrubbed" lists from you data provider, fulfillment house, list broker, or lead generator - go ahead and run them through a Certified Do Not Call Law Compliance Provider. It's not going to break the bank - and those archived records in the format required by government agencies and private actions can make a huge difference should your business be challenged.
Today, it's a real possibility lack of compliance initiatives can put you out of business. A little bit of DNC insurance, along with a dash of effort, can mean the difference between continuing to do what you love - and looking for work!
For more information on prudent handling of brokered and other calling lists, call me on my personal line - 5861-317-3001 or e-mail here - Bob.
*Not the real name of participant.
Related Articles: