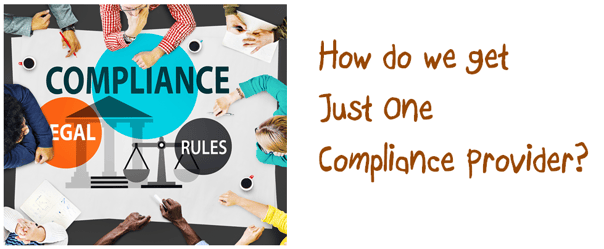 That's our job. Scouring the universe to help prevent the biggest problem with compliance today: Multiple vendors running for the hills when call prohibition problems occur. Like before a hurricane here in Florida. Everyone is gone. Disappeared. The fine print comes out of the woodwork, "This is an 'as-is' service." or "We make no representation for DNC or TCPA compliance." But that's not what their marketing materials said, was it?


The 3 Keys to DNC and TCPA Compiance - Video
This video is for informational purposes. Be sure to consult your own attorney for questions specific to your business.

But what if you had a compliance dream team? Like the one that won the 89 Olympics. Or was it 87. The biggest, baddest, all-in-one-place assemblage of unilateral talent. No fine print. The real deal. At the top of their game. The Call Center Operations Manager would be in heaven – no more telephone tag on where one provider's liability ends and another's begins. Your General Council would love it – no more constant questioning in court on every little in-house compliance procedure. And your CEO would be happy – knowing he or she has a major service provider on their side. Someone that knows the State AG's, FTC, FCC and predatory Attorneys. No more vendor hide-and-seek should a difficulty occur.


Getting Predatory Attorneys to walk away.
That's the end game – and another advantage of call prohibition protections all in one bucket. Vexatious Litigants look at that bucket, that brand name, that compliance behemoth having relationships with Government Agencies and a perfect 12-year track record. And they're scared for a change. That predacious litigant now knows that you know - how to field Certificates of Demand and other legal compliance problems. All things being equal, the company with the biggest baddest protections available today, all in one place, is in the best legal position to defend the fort.


But I have a great IT guy handling compliance.
DNC, TCPA, FDCPA, FCRA and CFPB compliance challenges are not data problems. They're legal problems. The first thing your IT guy finds out when TCPA lawyers fire warning shots. The uneasy letters and demands. Cookie cutter bullets. Vailed threats. Offers to settle. And the ultimate stressor: Class action certification always in the background. Your IT Head or Technical Expert or Operations Manager is making themselves a bit scarce now. The relentless onslaught of legaleze has given them the "not sure if I can make it to work today" yips. They're over their head. They're data experts, not legal experts.
You don't want to engage today.
The FCC has left so much to play out in the courts after the June, 2015 Declaratory Ruling update. Really… to say any dialer that has the "future capacity" to download software or make a change to become an Automatic Telephone Dialing System is considered one today. That does nothing but paralyze legitimate marketers. Get's folks that are trying to contribute out of whatever business they're in. The part that involves using the phone anyway.
And because we don't know what the courts will do, along with the FCC's unwillingness to be more specific on compliance interpretations, we don't want to engage legal challenges today. And one way to help avoid judicial engagement? Compliance procedures, records, and archives all in one place with the biggest, baddest certified DNC TCPA Compliance Provider you can get - waiting in the wings with your records in the timeframe and format required should they be needed.
Only then will vexatious litigants, predatory Attorneys and professional consumer litigators walk away for easier pickings.
For more information on compliance procedures in one place, call me on my personal line at 561-317-3001.
Related Articles: