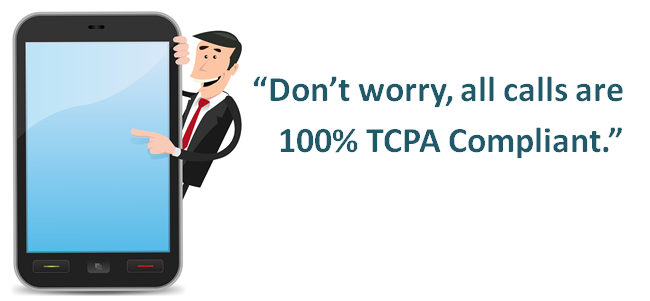 A cursory search under "TCPA Compliance Solutions" reveals that lawyer's opinions are front and center. Connect First, for example, a top call center/ fulfillment house, hired my friend, Nick Whisler, from MacMurray, Peterson & Schuster to endorse their solutions page: "Connect First has taken significant steps to ensure the TCPA Safe Mode Solution is entirely segregated from equipment that is capable of auto-dialing telephone numbers. Calls made by customers using the TCPA Safe Mode Solution are not made using a different "mode" on a predictive dialer; rather, they are made by entirely different equipment."
New lead procurement standard for Dialers: Complete Visual History of Prospect Intent. [Click Video]
And even TCPA Compliant Leads need a Previous Litigator Scrub. [Click Video]
Noble Systems prefers to offer the non-specific response, " Now more than ever it is important (to be compliant)… Noble Systems is a leader in compliant solutions with compliance experts on staff and seven patents for compliance technologies. Noble's latest Compliance-Ready Contact Solutions help you meet the FCC TCPA criteria for wireless calling and auto dialing." Key word "help".


There ain't no "Is Compliant." (As in "Is Pregnant")
Why? Because the FCC intentionally leaves folks in the dark – allowing details to play out in the courts. Neustar says, "Our solutions to mitigate the risks of violating the TCPA leverage the most accurate and up to date consumer contact information available.." Definition of "mitigate" – To make less severe, serious, or painful, reduce, diminish, lessen, weaken, lighten – Ahh but not eliminate!
TCN prefers to talk in terms of "The Basics of TCPA Compliance for Call Centers." Listing what needs to be done, but carefully avoiding if anyone does it or not. Not a bad thing. Just protecting themselves: 1. Manually dial cell calls. 2. Obtain proper consent (but that's like saying 'hand me that piano' to your girlfriend.) 3. Maintain "do not call compliance for your company. (Ahh – I knew that. So not a help there.) 4. Use a properly equipped vendor (Huh?)


Which Call Vendors will be there for you if you have a problem?
I'm not quite sure if Infutors TCPA Premium Compliance Solution will or not? But it seems like a great effort to comply. Which is what a judge will be looking for today. So each company is careful to feature a legal opinion or a basics on TCPA.


Should I purchase an additional 3rd party compliance program?
Five-9 comes right out and says, "We recommend you work with a third party compliance provider like… and names a few." Eric Allen, top TCPA Attorney recommends you work with a certified provider because "that's all they do. They don't make mistakes."
And that's the difference. It's important to certified DNC Law Compliance providers to maintain a perfect track record. So they can continue to sell their wares as the best in the business. That's all they've got. Is there reputation to go to the mat for each and every company they protect.


TCPA Vendor Solution Claims: Buyer beware.
Mindway, LLC's caption on their program, "The Solution to TCPA Auto-Dialer Compliance is Here." Ends up this claim is more of a reverse-lookup based on permissions I assume. But a bold claim non the less.
So take these vendor, dialer, data company, fulfillment house TCPA compliant claims for what they are worth. Probably a "help protect" – ie, we're doing the best we can but we may not be there for you if you have a problem. To be clear, that's not what Certified Do Not Call TCPA Law Compliance Service Providers do.
The bottom line: Will your Dialer Vendor be there for you if you have a legal problem? Maybe.
Probably best to backup with a Certified DNC Compliance Provider.
Related Articles: