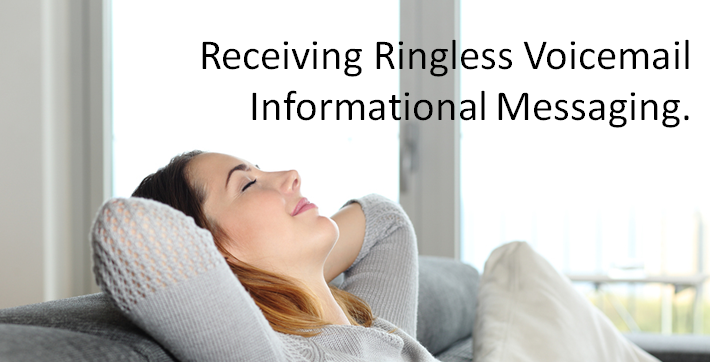 Terrified to call cell phones? You're not alone. Lots of companies have just stopped altogether. Scared to death of going out of business from fines. And rightfully so. But now there's a way to safely voice broadcast. Most companies don't know about it. That's a good thing. Because if everyone used it, it might not be so wildly productive. It's called Ringless Voicemail.
What you didn't know about Direct Voicemail - video
This video is for informational purposes. Be sure to consult your own attorney for questions specific to your business.
Directly delivering a voicemail message straight to the cell voicemail server—without ringing the phone or charging for the call, is now a reality. And because the consumer isn't charged, it's considered Telephone Consumer Protection Act compliant.
Here are 13 things you need to know about Ringless Direct-to-Voicemail for your Business:
Does the phone ever ring?
An important part of TCPA compliance say most legal experts. And bothersome to the consumer. Quality on the claim "ringless" or "direct to voicemail" can vary. Some products ring the phone once in a while, others almost never. Unfortunately 50% compliant by "sometimes" ringing the phone can equal "not compliant." The key is to find a program with high deliverability while almost never ringing the phone.
Is it a dialer?
Look for a program that is classified as a non-dialer, and delivers directly to a cell phone voicemail server via landlines. Suppliers should be able to furnish much research they've done on this, as they realize it's a top issue. (Cell phone voicemail resides on landline servers at the phone company).
Are messages cut off?
Clear delivery of the complete message is critical. Ask your supplier, but also check with folks using the product to make sure messages are played in their entirety, and clearly. The best system would rather not deliver a message at all than cut it off and risk complaint or compliance issues.

How long does it take to send?
If 30,000 messages begin broadcasting in the morning, they should be completed by midafternoon with a robust system. Sometimes programs will attempt a second or third try, as the 30-year-old cell system is not static.
Who is Direct to Voicemail Broadcasting designed for?
Large users include Medical Debt Collectors, Student Loan Servicers, Credit Card Servicers, Banks, and Financial Institutions.The program is designed for companies with some kind of existing business relationship. The system is not intended for cold calling.

How effective is the program at creating callbacks?
First, it depends on the age and accuracy of the numbers themselves. If the numbers have been sitting around for a long time, they may not be accurate. Up to 25% of phone numbers can change in densely populated areas of the country per year.
Second, callbacks depend on the product being serviced or sold. If Debt Collectors, for example, are dropping messages about delinquent cell phone bills, it probably won't create a lot of callbacks. Why? Because someone that owes money on their cell doesn't want voicemail on! Student Loan servicers dropping messages about a better rate on the loan, or paperwork that needs to be updated have gotten 7% to 11% callback response rates.

What's the delivery rate?
A "carrier certified" delivery rate to cell phone voicemail of 80% on "deliverable numbers" is considered excellent. The message should be double verified, at the beginning and end of delivery. It's thought calls through major carriers might have higher delivery rates on some programs. (Carriers can also be identified on a Direct-To-Voicemail program for Enterprise Deployment.)

What reporting should I expect?
Look for a program that delivers reporting at the end of the business day or sooner. Make sure your statement tells first and foremost what numbers received successful deliveries. Additional reports are nice to have, but the bottom line is always messages delivered.
How should I prepare my call center?
As messages arrive throughout the day (it takes a while, even with multiple-trunk capacity, as each message needs to play to its entirety over the voicemail) your associates will start to get calls. If the call is going to be returned, the vast majority occur are within 2 or 3 hours of receipt. Work with your vendor to gauge staffing and avoid busy signals.

How easy is it to set up and deploy a Direct-To-Voicemail campaign?
Programs are internet web page dashboard based. For larger applications, expect complete API interfacing so that campaigns can run in the background.

Are there restrictions on who can use Ringless Voice Broadcasting?
Providers use phrases like "100% compliant when used responsibly," but no companies warranty or guarantee the service altogether. One supplier has set aside a substantial legal reserve that may help with court fees, and will make one of their experts available, should a problem arise.

Will they separate the cell numbers for me, or do I have to do it?
All suppliers should have some method of separating cells. Something you need to do anyway—identify cells—as a first step towards DNC compliance if you're a marketer or debt collector. Some suppliers don't charge for this service.

How much does it cost?
Pricing is generally based on the number of certified deliveries—the most compliant programs (ie never rings the phone, has talked with FCC extensively about exact delivery method) starts at about $0.05 to $0.15 per successful delivery. Less compliant programs that ring the phone once and awhile - or huge volume campaigns - can be substantially less.
Ringless Broadcasting, or "direct dropping" a cell voicemail, is an exciting technology that if used in the right scenario can make your business a lot of money. It stays "under the radar" by quietly and discretely delivering your informational messages. Without interrupting the recipient, consumer upset is short-circuited.
So take a couple minutes to check in with me on this technology. We'll know pretty quickly if you are a good fit. I can also give you quite a bit of data on similar user results, as it's been around for over three years now.
Related Articles:
What do you think? Is Ringless Voicemail a possibility in your business outreach future? - Let us know below -