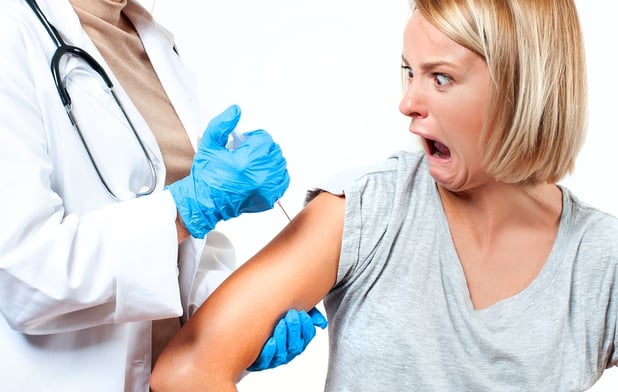 TCPA filings increased 17.6% in November over October 2017. About 38% of these plaintiffs have sued more than once under call prohibition statutes. The court's time continues to be clogged by frivolous lawsuits from hungry attorneys looking for a quick buck in the calling arena - culminating in a recent flu shot call suit. Yet record-breaking numbers of illegal robocalls continue unabated. What's up?

Flu shot reminder call? Huh...
According to Law 360, "The Second Circuit on Wednesday refused to revive a putative class action accusing Mount Sinai Health System of violating the Telephone Consumer Protection Act by sending flu shot reminder text messages, ruling that the plaintiff consented to the communication when he signed forms at an initial medical visit."

"In an eight-page published decision authored by Circuit Judge Jose A. Cabranes, the three-judge appellate panel affirmed the toss of TCPA claims that plaintiff Daniel Latner brought against Mount Sinai and its affiliate West Park Medical Group PC."


Appointment reminder calls big business.
Fulfillment centers like call-em-all heavily solicit pharmacy chains and hospitals to make appointment calls on their behalf. Although the latest flu shot reminder challenge was thrown out - why should health companies go through the time and expense of defending themselves at all. Didn't Welcare testify before a Congressional Committee on the crippling costs of restricting consumer information messaging? Can't you just call CVS and say "don't call me anymore about my flu shot each year please." Or more appropriately (because I always forget) - "Please continue to call me about my flu shot each year!"


Scammers continue to call - even with "scammer likely" caller ID.
Although connect rates are down 30% to 40% since TMobile, AT&T and other major carriers started implementing the "scammer likely" caller ID message; bad actors continue to pound away. Telemarketing trade organizations and members are concerned about this and have offered to help carriers with more accurate tagging. As a marketer, how the heck do you find out if your caller ID defaults to "scammer likely" anyway. And why would you want to pay your carrier to help with a lower connect rate?
By the way, there is no IRS recorded caller, Microsoft repair guy, Google ad lady, credit card repair with the message: "There's nothing wrong with your card, but you need to call us immediately". In fact, my 92-year-old Dad was surprised to find it was really UBS calling the other day about his UBS credit card. "I usually just hang up when credit companies call," he says - not believing a word from any unsolicited caller at this point.
Call legislation continues to be aimed towards catching these uncatchable bad actors, while reasonably compliant marketers continue to be trapped in the net.


Illegal robocalls continue to increase despite FCC's best efforts.
According to Tom's Guide Security, "A new report from the FTC says reports of telemarketing calls illegally placed to numbers on the Do-Not-Call registry, whether made by human or automated script, have increased steadily since 2014" The Verge reports "The FTC in 2017 received over 375,000 complaints per month about automated robocalls, up from only 63,000 per month in 2009. The report says that robocalls are steadily increasing because of cheap access to internet calling services and auto dialing and because it's getting easier for spammers to hide their true identity and location. While YubaNet.com reports, the robocall problem is even worse than FTC Data Shows.


Neighborhood caller ID - is it really spoofing according to TCPA?
Consumer complaints continue to rise about local caller ID from solicitors - fooling you into thinking the call is local. At this point, lawyers tell me this is not considered "spamming" as long as the caller ID goes back to the company originating the call. Companies like Talkdesk and Fastcall advertise this service as critical to better pickup rates on consumer calls. Meanwhile, businesses like Robokiller continue to tell us how to block bogus neighborhood caller ID's with apps designed for cell phones.

Violations of Do-Not-Call Registry still upset consumers most.
In my state of Florida alone, the State Department of Agriculture and Consumer Services received upwards of 40,000 call complaints last year. What bothered folks the most were solicitations after registering for the Do-Not-Call list. Landlord complaints, the second biggest consumer bugger, were a distant second - nine times less likely to complain.
For more information on protecting your outbound calling efforts from call prohibition violations, call my personal line at 561-317-3001 or email me here - Bob.
Related Articles: