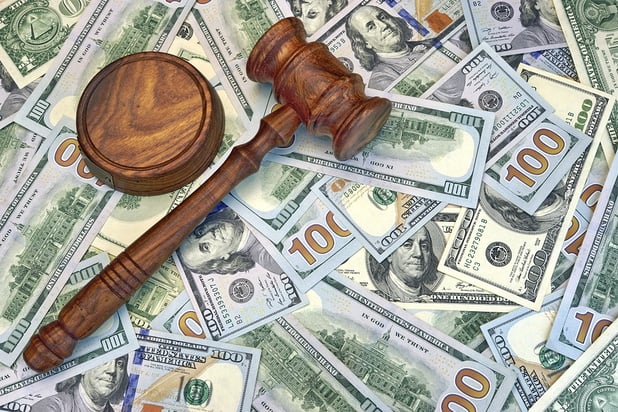 A comparison of the latest super expensive fines and settlements associated with the Telephone Consumer Protection Act affirms the continued upward spiral of the last few years. What a time to be a TCPA Prosecutor! Go ahead and sue – you'll be able to find something: Cell phone scrubbing, Express Written Consent problems, Reassigned Number issues - even Do Not Call fines for B2B's are part of the wild west now. What to do? First – it's time to admit you can't handle this compliance stuff alone efficiently. And second – "Who the heck do I partner with?"

Hi! We're Wistia. We provide business video hosting to attract, engage, and delight
message
TCPA filings don't include the thousands of Pre-Litigation Demand letters companies pay off every day.
Those pesky threats from professional consumer litigants. The big companies will usually settle on the eve of trial for millions. But the midsize businesses subject to a constant wave of $2,000 and $3,000 demands that'll cost $10,000 to settle and $50,000 at trial – those guys just get quietly paid off. Victims of cookie cutter compliance letters from Attorneys figuring you must have done something wrong.


Northern District of Ilinois, Chicago, almost twice as many suits as others.
Although Brooklyn, Los Angeles, Atlanta, Tampa and Ft Lauderdale are hotbeds of TCPA filings, Chicago remains king. When a giant suit gets settled, there's a sense it won't happen again. Spokeo was supposed to make it easier to prove real pain and limit lawsuits. It didn't. After the Capital One Financial Corp $75 million dollar settlement, by far the largest in the 22-year history of the TCPA, Attorneys thought it unlikely to happen again. "The unique facts of the case make such a hefty agreement unlikely to recur." But then came the Cruise Lines settlement for $76 million. And you guessed the location. The Northern District of Illinois.


Bad Actors continue to elude lawmakers.
With untraceable calls routed all over the world, Rachel continues to make the rounds with "there's nothing wrong with your credit card, but you must call immediately..." looking for cash scam payments to keep fleecing folks. And the bogus Google Ad Lady and Microsoft Repair person continue to be happily supported by unsuspecting solicitors. Add to that the political call season set in motion by the Arkansas federal judge saying robocalls are cool – and you've got a cell owner constantly on edge. With the legitimate companies holding the bag.


Legitimate Companies still ask: "How exactly can we comply?"
The fact is, it's difficult to abide by the TCPA. The FCC has no interest in giving exact language to prove express written consent, for example. And what exactly is an auto-dialer after the law changed to "future capacity." My friend Ken Sponsler at CompliancePoint gets big money to give his opinion on manual dialers, debunking reassigned number suits and getting in the middle of express written consent calls.


And legitimate players want to be told what to do by the FCC. They're not.
Hey, banks are just calling customers with overdrawn accounts, right? No need for special compliance procedures there - wrong. Customer and prospect numbers change all the time. If they're your customers, you are responsible. Cell owners assume anyone calling them with auto-assistance must be doing something wrong, and file complaints or sue. And Lawyers have made it a specialty to solicit and coddle those complaints into something big. Judges, of course, are subject to the same constant barrage of cell and landline intrusions – so they must be pre-judging a little bit – as in "prejudice" towards these call recipients – because they're human, right?
WellCare, in testimony at the House TCPA modernizing meeting last week, complained they couldn't use automated equipment to call or text customers. Imparting critical care health information on things like bandage changes, reordering medicine, or even reminders when to take it - increasing return visits to hospitals. A small utility company testified they couldn't send auto-confirm calls for pay-as-you-go service fees for fear of violating the reassigned number rule. They were forced to stop the practice, severely inconveniencing customers that can't afford to pay the light bill all at once.


TCPA Suits will Continue to Climb.
Here's how to help keep safe with Litigator Scrub.
Experts say this will get worse before it gets better - So if you've been protecting yourself with your own in-house secret sauce from the TCPA. Or have too much invested in your internal DNC and TCPA protections to change. Have a compliance expert that goes to all the webinars and stays up on this stuff. An IT director that keeps records in the time frame and format the FTC, FCC, CFPA or Predatory Attorneys might require. Have won in court on a couple of occasions and feel pretty invincible with the TCPA...
Your homegrown in-house piecemeal TCPA solutions probably won't hold up anymore.
I generally pick up the phone, so call me about available outsourced perfect track record compliance plans including: cells scrubs, reassigns, express consent, Litigator Scrub, Ringless Voicemail, DNC National and State List scrubbing and B2B protections at 561-317-3001 or email me here - Bob
Related Articles: