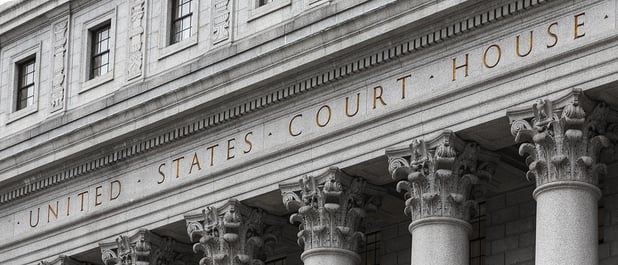 With big, high profile, play-it by-the-book financial institutions like Salt Lake City based Zion Bank settling for $37 million dollars in potential TCPA violations, and Citizens Bank $4.5 million to stop a class action – don't think your call center or marketing company isn't next. And pay attention you B2B's. Don't wait until these attorneys come calling before taking evasive call prohibition action.
Texting isn't immune from TCPA.
Twitter just got nicked for sending hundreds of text message tweets to reassigned cells (See our blog: Reassigned Numbers must be verified on permission calls.) in violation of the Telephone Consumer Protection Act says a California judge. Twitter's argument that it didn't create the tweets fell on deaf ears.


"Terms of Use" protection on those texts to dodge liability? Forget it.
A Legal Arbitration clause for Dick's Sporting Goods ongoing text messaging class action suit was rejected in TCPA interpretations – because the consumer wasn't aware of the companies terms of use. Dick's said it's terms of use had an arbitration clause that prevents TCPA lawsuits like the one filed in January 2016.
(These call prohibition laws are so hopelessly slanted for the consumer – why would you want to risk going to court? When you get down to the nub of it – the vast majority of these filers have done it before, know someone that has, or do this for a living.)


Oh sure, once in awhile you'll win.
On June 20th, 2016 the Eastern District of New York granted a creditor's motion for summary judgment for an auto company and dropped a TCPA claim because the plaintiff couldn't present adequate evidence that previous express consent to be contacted was revoked. But that's unusual. It's normally the company making the calls that must prove express consent and consumer proof of giving that consent up.
The guy gave specific express approval to specific call methods, then didn't pay his bills. The car was repossessed. And EVEN THEN they guy claimed $720,000 in damages for TCPA and FDCPA, as he alleged to have revoked the company's right to call.
Hey, it must have been bad because car companies don't want to take your car back. They'll do almost anything to keep you in that vehicle.


TCPA class actions aren't limited to any particular industry.
Timeshare company Bluegreen Vacations Unlimited was hit with a complaint from a young lady seeking class action status on June 10th, 2016. The company called her cell stating she was a finalist in a $47,000 sweepstakes - and proposing a vacation in exchange for a deposit to secure the reservation.
But Bluegreen called her cell without obtaining prior express written consent and with the use of an automatic telephone dialing system. And the kicker – the plaintiff has requested "further relief (beyond $1500 individual fines) as the court deems just and proper." Ha!


Don't depend on the new higher TCPA standard, "suffer concrete and particularized injuries."
A West Virginia Federal Court agreed with a consumer accusing two companies for making auto-dialed telemarketing calls to her wireless phone in breach of the TCPA. The user claimed she really did suffer injuries - to the point where the lawsuit was allowed to proceed.
The court found "concrete" damages were caused by depleting the cellphone's battery with ATDS calls - so it needed to be recharged more often. And that costs money!
"Intangible harm" was induced by invasion of privacy, time wasting, and distraction while driving. It seems all consumers need do to get around this current restriction is claim they received a call - and that constitutes concrete harm.


But what do these cases have to do with Litigator Scrub?
Plenty. Judges don't seem to care if plaintiffs are professional consumer litigants trapping businesses - or might be "fishing" for TCPA lawsuits.
Dick's Sporting Goods plaintiff was probably "fishing" for TCPA lawsuits. How do we know?
He was a TCPA lawyer.

He signed up for several unrelated texting programs in a short period.

He claimed he was unfamiliar with the arbitration clause of the text agreement. (The clause supposedly protecting Dick's from TCPA prosecution).
When plaintiffs request to stop receiving texts was not honored, the Judge allowed the TCPA case to proceed, throwing out the arbitration based on the provision in "Terms of Use" published on Dick's website.
(The cell number in question was on Litigator Scrub, and would never have been allowed to receive texts in the first place had the marketing company scrubbed for previous claimants.)
In summary:
As my good friend Ken Sponsler, Compliance Point Consulting Guru, said to me years ago: "The only way to completely avoid TCPA litigations is to not call them in the first place."
Hey Ken, we can't avoid calling altogether. But we sure as heck can eliminate calling the folks that cause most of these litigations. The pros. The lifestylers. With a program called Litigator Scrub that eliminates previous DNC, TCPA, FDCPA, FCRA and related Consumer Financial Protection filings from your calling lists - before we pick up the phone.
To see if Litigator Scrub might be a good fit for your call center or phone marketing business, call my personal line at 561-317-3001 or email me here - Bob
Related Articles: