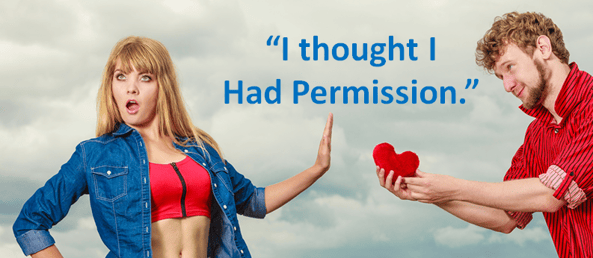 "The FCC recommends that callers check their call lists against available third-party databases of reassigned wireless numbers." From the Controversial FCC Declaratory Ruling July 10, 2015 on TCPA regulations. The update continues: callers are responsible... "not for the intended recipient of a call, but for the current subscriber of the phone line at the time of the call." So even if you thought you had permissions handled, they might have changed. And with no definitive reassigned list to check, how do you comply? [Click Video]


"Callers who make calls without knowledge of reassignment... should be able to initiate one call..." FCC.
So vexatious litigants will just lop off the first number on their list and say, "O.K. we've taken the initial offense off the table, but we're going ahead with the other 999 calls!" Don't be fooled by this "first one's on us" scenario. You still need to check for reassigned or "recycled" numbers on permission calls.


Even after a failed attempt to identify your recipient, you're still responsible for calling the right person.
But now you've used up your one chance to verify the guy as the one you got permission from!
The FCC offered further advice in June on verifying numbers such as: "A tone indicating the number is no longer in service." And, "A name on the voicemail greeting that is different from the name of the party the caller intended to call." But that seems a little time intensive. Not too practical for efficient call center procedures. A bit burdensome.
Further, they said to make sure you have "interactive opt-outs in all artificial or pre-recorded voice calls so that recipients may easily report a reassigned or wrong number." They also want you to record "wrong number reports received by customer service reps placing outbound calls."
We were hoping for a bit more clarity and/or forgiveness on the reassigned issue.
But it looks like Attorneys will continue to be encouraged in supporting professional consumer litigants, and renew their commitment to class action status under the statute. The best defense we've got today? A Reassigned Number Scrub. Call me if you're having trouble finding one. (They can get expensive. We've contracted special discounts at about half the usual price with a top compiler, including several carriers.)


Sample Reassigned Number Probability Score


Consent - the close cousin to Reassigned Numbers.
Your method of obtaining consent can also be up for scrutiny now. Especially approvals acquired before October 16th, 2013 when the FCC cell update made wireless ownership consumer agnostic.
Was the consent an opt-in at purchase? Will your Existing Business Relationships expire or be subject to more stringent State interpretations? Is it safe to auto dial your express written consent opportunities? Will the language hold up in court? (It seems no matter how much we harp on this issue of proper consent wording on company internet forms, especially with B2B callers, no one cares. Except folks that have been to court and witnessed how this one simple adjustment can transform your defense. So be sure to run this one by your Attorney.)

If you are doing any auto-dialing, you'll want the strongest permissions available.
That would be the; "We may call you from time to time using live associates, auto-dialers, voice-recording, texting..." When gaining consent, it's important to be very specific about the type of communication your opt-in can expect to receive. And those priorities might change! Also, the opt-in language needs to make clear this request for information is not condition of the sale.


The burden of consent is still on the caller to prove proper opt-ins were obtained.
Permission wording is slightly different for "informational" vs. "telemarketing" calls. As prior agreement calling is involved in 80% of TCPA litigations, it seems the FCC's lack of further clarity here will tend to open up more consumer lawsuits and class actions. How is consent established? How can it be revoked? All questions you'll want to be sure to consult with your Attorney on before reaching out.

"If any question arises as to whether prior express consent was provided by a call recipient, the burden is on the caller to prove it." FCC
So the customer is still always right.
And affirmative consent is required. Not just passive 'along for the ride' approval. For example, "The fact that a consumer's wireless number is in the contact list on another person's wireless phone, standing alone, does not demonstrate consent to autodialed or prerecorded calls, including texts."
The Order also reaffirms that a called party "may revoke consent at any time and through any reasonable means" and that a "caller may not limit the manner in which revocation may occur." In telemarketing speak, that means if they mumble anything close to, "I never said you could call me." - Turn on the 'Mr. Polite' switch and charm em' as best you can.
In Summary:
The various types of permissions and consents are tricky enough, depending on how you're calling. But now that they can change without you knowing, so it's critical to consult your Attorney before delving into this world of reassigned, permission, and consent calls.
Please Note: These opinions on the FCC's latest rulings are for informational purposes only. They will be incomplete and probably contain some mistakes. So be sure to consult your Attorney before proceeding with any compliance programs.
For more information on Reassigned Numbers and Consent to Call for your personal situation, just call my direct line 561-317-3001 or e-mail me here - Bob.

Check out Bob's Award Winning Videos on our YouTube Channel here.
Related Articles: