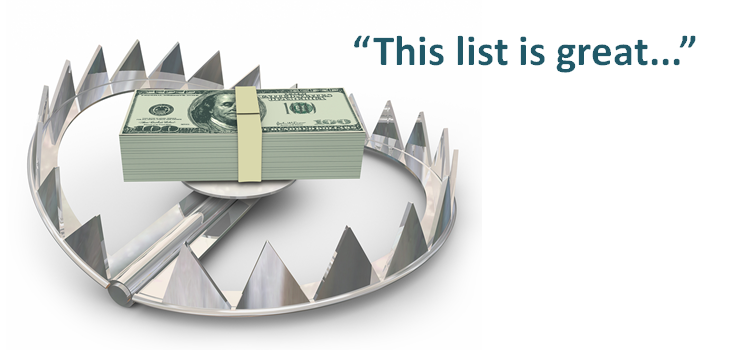 As a list broker, if you do nothing with compliance, there's a good chance it'll come back to bite you today. If you help your clients with TCPA compliance, that implies liability exposure. Not good. The days of making businesses sign off on the DNC and TCPA are kind of over. Without any guidance, either they'll get a threat letter from a professional litigator demanding payment or the CFPB will find out they don't even identify cells, and will want to do an audit. Your client expects some call prohibition help today. At the very least, some warm and fuzzy direction.
Purchasing Lead Lists? - Be Careful! -
This video is for informational purposes. Be sure to consult your own attorney for questions specific to your business.
Are your lists from filled-out forms on the internet? If so, will the wording of that form survive legal scrutiny? And if your forms are for a general inquiry – are they precise enough to hold up in court.
How many companies do you sell the same inquiry? If that consumer or business is bombarded with lots of calls from that single lead, they'll have a tendency to complain. And after the June 10th FCC Declaratory Ruling Update, the cell owner, whether business or consumer, is "more right" than ever.
New Visual Playback TCPA Compliant Lead Technology Designed to Hold up in Court -

Try a Litigator Scrub before giving your lists to clients.
This will get the most likely offenders out of the way. Even if it's an inquiry lead. These professional TCPA litigators set traps for businesses to call them. And your client will probably lose in court. Whether you're selling BtoC or B2B leads, you won't have much number fallout because the list is small but potent. A Previous TCPA Litigation List is from 25,000 to 150,000, depending on total associated numbers, and adds from 1000 to 2500 per month.
A Litigator List is not a required scrub, and won't imply any kind of liability on your part – yet it is arguably the most significant list to scrub today. Also, it gives you an opportunity to start a relationship with a top DNC Compliance Service Provider. So if a client wants more protection – Do Not Call, cell scrub, company specific in-house scrub – you just open up those filters. See our page, "Previous TCPA Litigant Scrub."
National DNC Registration is free for your Business-to-Business Clients.
Businesses signing up for the National Registry aren't going to buy anything anyway, so why take the chance in calling them? And compliance is front and center. So they'll have a higher propensity to complain. Complaints, of course, are the smoking gun for the CFPB – encouraging cell owners to file issues directly through their site. As you know, they're a self-funded agency re-interpreting the TCPA as they please.
Your B2B customers will also save the $17,000 registration fee as a business exemption. Through that exemption, they can hire a Certified DNC Law Compliance Service Provider to check compliance in the background – through API, call center vendor, dialer company or dataset download. And it won't break the bank. See our page, "
B2B marketers should consider National DNC List sign up."
It's good business to care about your customers compliance needs.
I know what you're thinking. As a list broker, you want to stay as far away from compliance as you can. If you scrub numbers out of your lists, it's money down the drain. The client traditionally has been on their own with call prohibition protections. Once that list is sold, you don't want to hear about it. In fact, you'll sell it as many times as your can to as many businesses as you can, if they're even close to the proper parameters. And your lists are all tip-in's anyway. So you're exempt from everything right?
But today, you'll at least want to field your client's compliance questions. At least have someone like myself or another DNC TCPA expert on tap to point them in the right direction. Someone that wants to help you close the deal, and not just scare them off as some of the lawyers can. If they don't get the basic cursory compliance questions answered in working with you, once they get a taste of how dangerous TCPA interpretations have become, they'll go looking for a more legal savvy list broker.
In Summary:
If you warmly and clearly suggest compliance direction to your clients, whether they take it or not, they can't come back and throw call prohibition issues in your lap.
When they get that threatening phone call from a professional TCPA litigant: "May I please speak with the person that can write me a check?" - you know they're safe with the certified Do Not Call Law Compliance Service Provider you recommended! (And so are you.)
Update April 22'nd 2016:
What you can do right now as a Lead Broker to help clients:
1. Get a free Google Analytics Type Widget to capture complete visual history of lead intent. The app doesn't cost anything and your customer pays directly to access critical TCPA Compliant data designed to hold up in court.
2. Get rid of the 90,000 previous Do Not Call and TCPA Litigants that have sued before with Litigant Scrub. It's inexpensive, and should be part of any lead procurement procedure. Once you engage with the pros, it's too late. You'll never shake tham.
3. Learn about Reassigned Number Technology as mandated by the FCC to help clients re-verify their written permission calls - before calling. Cell phone lead verification with up to 94% accuracy is available from the traditional banking industry "Identity Certainty" companies. (Banks have used these direct-to-carrier cell relationships for years to verify mobile customer communications at ATM's and with check deposits.)
For more information on helping your clients - and yourself - with lead list compliance needs, call my personal line at 561-317-3001. I promise not to make you bad and wrong! (Just how to make more money safely.)
Related Articles: