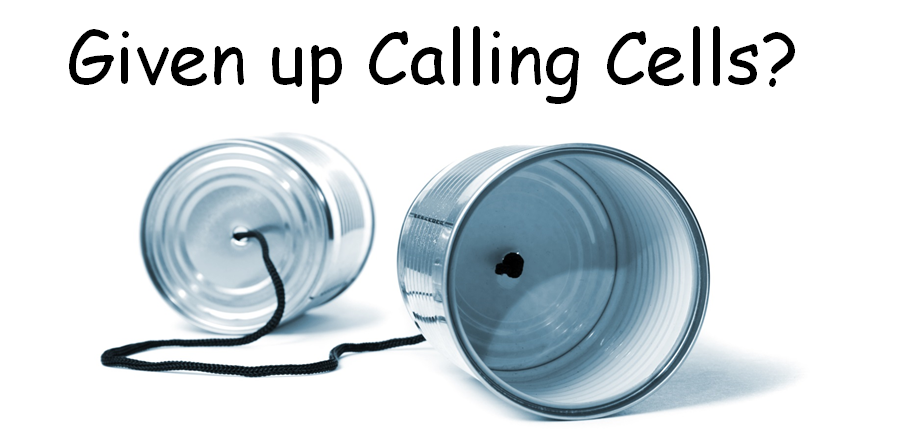 If you're a debt collector struggling with reaching out to cell phones, a financial institution wondering how to reach folks about their credit card debt, a medical collector, or student loan servicer, you know how problematic it can be to safely call cell phones. Ringless Voicemail allows you to directly deliver a message to a cell voicemail platform without charging or interrupting the wireless owner. In fact, it never touches the wireless network at all!
We're not talking about a breaking-up-with-your-girlfriend-without-speaking cell phone app here. We're talking about an enterprise deployment of a warm and fuzzy Zortman-style message asking the consumer for a return call. An easily deployed anytime-your-boss-needs-a-boost-in-incoming-calls tool.
We're also talking about a free delivery method that doesn't involve the wireless network at all—giving it some real TCPA compliance advantages. It makes a landline call to the consumer's landline voicemail. (Contrary to popular belief, cell phone voicemail isn't in the phone!) So the cell owner doesn't pay for the call because it never touches their wireless system.
Over 10 million successful deliveries have been made in the last three years.
And more importantly, Ringless Voicemail for Business does not seem to cause consumer complaints. Complaints are what the Government agencies are on the lookout for now. We're not even sure if a lawyer would want to take on a Direct-To-Voicemail case when they've got such easy pickins' with cell calls that actually DO go over the wireless system! And for companies collecting debt, for example, no complaints is a Godsend. See: "Ringless Voicemail for Business Helps Medical Debt Collectors."
Here are 8 things you'll will want to know about Straight-To-Voicemail "Ringless" Voice Broadcasting:
Your business voicemail message using the discrete "ringless" delivery method appears legal because the FTC and FCC have placed voicemail under the category of "Enhanced Information Services" and they have therefore chosen specifically not to regulate voicemail. See: "Ringless Voicemail Broadcasting for Business."

With TCPA lawsuits up almost 30% a year to date, and 13% of those class actions, Ringless Voicemail has zero suits in over three years, which is less than even live associate calls.

With almost a third of private right of action TCPA suits coming from the same people, you might be excited to know that Direct-To-Voicemail never actually uses the wireless system. Repeat, plaintiffs hate that. See: "Ringless Voicemail Benefits TCPA Compliant Voice Broadcasting."

UDAAP (Unfair, Deceptive or Abusive Acts and Practices) Is a new standard the CFPB is using to monitor practices in the debt industry. Direct-to-Voicemail isn't abusive, unfair, or deceptive.

CFPB Audits follow consumer complaints. Ringless Voice Mail doesn't cause complaints.

VOIP finally has had a successful private suit against a debt collector citing the TCPA, "Or any call in which the consumer pays." Direct-To-Voicemail, however, considers VOIP a landline call, and would filter it out. (Ed.'s Note: Specific VOIP filters are available separately. See: "Marketers need to Identify and Scrub VoIP Now.")

You're going to have to identify cells anyway. And that costs money. Straight-To-Voicemail identifies cells in real-time, certified by the carrier before each call, for free. (According to D & B, this is the gold standard of cell identification. Better than any other method. For cell identification only see: "Cell Scrubbing for Do Not Call TCPA Compliance.")

Ringless Voicemail wireless messaging is cost effective (you're only charged for carrier certified deliveries), easy to deploy, and the perfect complement to your already successful cell outreach initiatives.
In Summary: Ringless Voicemail Direct Messaging for Business looks to be a safe, creative tool that can be easily deployed anytime your company needs a boost in incoming consumer calls!
Related Blog: "Ringless Direct Voicemail Broadcasting TCPA Compliant."
For more info, just call Bob directly at 561-317-3001 or e-mail here.
Please Note: We work with the inventor of Ringless Direct-to-Voicemail for Enterprise Application - holding the patent on the program. Complete messages are double carrier certified at both start and finish – or you are not charged. Messages are clear, the phone does not ring, and the delivery rate is extremely high. The TCPA and CFPB are aware of the landline delivery system to cell voicemail platform, and so far, have not had issue with it. Please be aware: all Ringless Voicemail products are not created equal! Some have been known to ring the phone as much as half the time, which of course is not compliant! Direct-To-Voicemail for Business is not designed for cold calling or non-relationship communication.