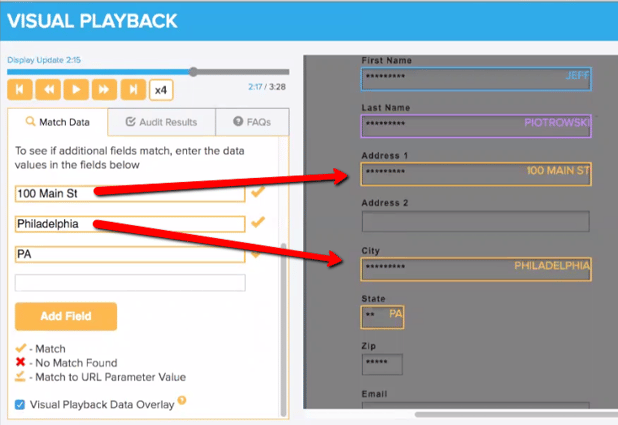 A new higher standard of lead validation has emerged to help businesses prove express written consents, prior express consents, and general internet leads are TCPA compliant. It's called Lead Video Proof. With visual playback including every move the prospect made when filling out a company or broker lead form: Dropdown affirmations, mouse movements, affirmative action checks on callback disclosures - everything. Better sharpen your game Mr. TCPA Prosecutor!

Video Lead Playback - Tough to Beat! [Click Video]
All of a sudden, every consumer touchpoint is TCPA Compliant!
Not just leads:
How about validating every customer, prospect and vendor contact touch point inside and outside of your loosely defined company boundaries.

How about a contact number chit or "VIN" following that connection throughout your sales, vendor and fulfillment departments. No matter how many times that contact changes hands.

How about a one-way encrypted "hash" for HIPPA and data collection compliance. Eliminating the dreaded "personally identifiable information" problems of old.
Video Proof equals Ironclad Consumer Consent.
Previously, we've had to rely on the reputation a Top Generator, Fulfillment House, Power Dialer Company, Lead Broker - or our in-house IT department. A wish and a prayer - and easy pickings for today's Do Not Call and TCPA Prosecutorial specialists. They'll pick your permissions apart like a big dog with a note from the teacher. But with video proof - ironclad proof - it's a whole different ballgame.
Finally, a Standard that'll hold up.
A free Google Analytics type widget is embedded in every lead form. Recording the event as prospect information is collected. Data is then one-way encrypted or "hashed", available only through a perfect match from inquiring prosecutors. Setting in motion a complete video playback of the lead event. And when it's time to update customer lists, you guessed it; the same technology comes to the rescue!
Wow - I can drill down on my leads now. And close more.
You bet. It's easy to figure out where your lead dollars should be spent on this technology. What's closing? What's not? And you know alot more about the person too. Easier to establish a relationship right off the bat.


What we used to call "Strong TCPA Lead Compliance" doesn't make it today.
The last bastion of TCPA compliance we've just not been able to conquer. The one that drives defense lawyers and lead brokers crazy. Especially on leads that have changed hands a few times.
To use the same system that established permission directly from the prospect - to prove express written consent by playing back that exact same information - in the order it was consented - available only through a one-way match. Wow.
Brilliant!
For more information, just call my personal number at 561-317-3001 or email me here - Bob
Related Articles: