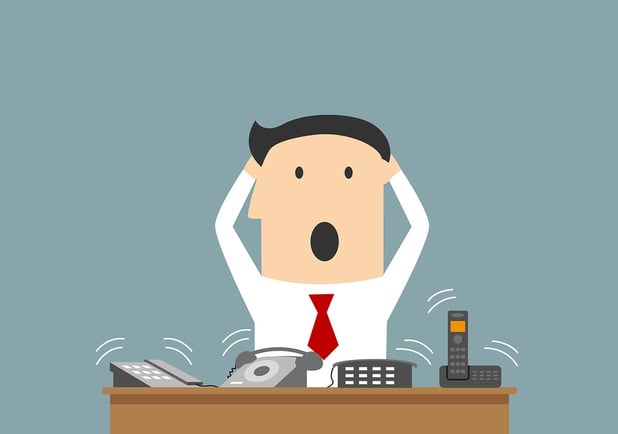 Why would any telemarketer or B2B solicitor pick up the phone without first making sure they're not dialing a serial TCPA lawsuit expert? Someone who lives and dies making phone marketers miserable. A self-proclaimed call prohibition terrorist sitting back waiting to sue unsuspecting, hard working businesses. You do know how easy it is to protect yourself from these call litigation predators, right?
Calling professional TCPA lawsuit experts by mistake is usually the last thing B2B marketers think of.
You're more concerned about Do-Not-Call list scrubs, cell scrubbing, state lists, time of day calling and 3-second minimums on automated calling procedures - not to mention click to call vs. ATDS for hybrid cell business/consumer callbacks. You're worried about number of callbacks, conversions and how fast they can follow up. A perfect storm for predatory TCPA attorneys. But what about eliminating the most dangerous group from your call list before each campaign: Former Litigators.


B2B's remain unaware: Most professional TCPA litigants are targeting your sector now.
And you can't befriend a professional TCPA litigant. Can't cry "uncle" for mercy. No matter how hard you try, you aren't going to convince a repeat TCPA prosecutor how incredible you are. How much you care about your product. How you didn't mean any harm.


Against a pro-TCPA litigant, you're pretty much overmatched at "hello."
So why would you not clear your callbacks and outgoing lists of previous TCPA filers. Clean up those purchased qualified leads - heck, all the calls you make - to help eliminate the people that'll for sure sue you and win. The ones that have sued before.
Your legal team has better things to do than tangle with threatening call prohibition letters. I'm guessing you have an inking of how bad things can get legally and financially by leaning on your phone outreach programs too heavily without proper protections. And it's easy to get class action certification today, especially with the TCPA. To the point where the House Judiciary Committee is reviewing the class action certification process with the recently introduced Fairness in Class Action Litigator Act of 2017. Lawyers are getting rich. Consumers are getting... well, not rich.

When you receive a lead form from your website - first, check it against known TCPA plaintiffs.
The pro prosecutors will try to trick you into a response. They'll ask for more information. And after you call, it's too late. You either responded at the wrong time, sent three faxes when they only requested one, gave up some information they'll use against you i.e. the wrong person picked up when you called back (not the one that gave permission) - and the list goes on.
It's just a simple callback for B2B's, right? The companies that requested you to call them back. The one's that asked for more information. You're just helping. No really, you're just responding to their request. Any judge would understand that, right?...
Not anymore.
For more information on proper B2B TCPA protections like Litigator Scrub, cell archiving and the value of a top brand protecting you, just call my personal line at 561-317-3001 or email here - Bob
Related Articles: