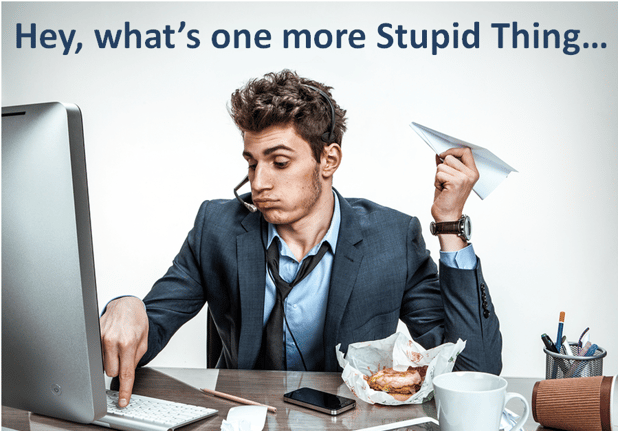 Four witnesses testified at last Friday's House meeting on modernizing the Telephone Consumer Protection Act. The issue: New phone legislations continue to miss the "bad actors" only to end up challenging legitimate companies trying to follow the laws. The best and latest thoughts here? New technology catching spammers via call "signatures" on both ends of a call seems to hold the most promise. Much like email spam filtering, you're catching them in the act, rather than chasing after the fact!
Four witnesses asked how they would modernize the TCPA. My paraphrased responses:
WellCare Healthcare: "I'd harmonize the wording of HIPPA and TCPA call restrictions so we can contact our folks. Right now we can't afford to text or autodial cell phones without fear of prosecution, and without that, informational communication such as prescription reminders and wound care updates, including collections, is limited to U.S. mail or calling a landline."

Response: "So you're saying that the TCPA substantially impacts your ability to run your business and what's best for your customers?"

The Electrical Co-op Company: "Although we made 500 calls to reassigned numbers, and call people as much as 23 times a day, we need you to do something about reassigns."

Response: "You want to be able to make 500 calls to reassigns and change the TCPA, so it's O.K. to do that? Is that what I'm hearing? I've never even heard of that? Sorry, that ain't going to happen."

The consultant asked what he would do for the Electrical Co-op: "I don't have the exact wording on Express Written Consent at the tip of my tongue. I'd have to look that up."

Response: None.

Technical Expert Witness was asked what he would do: "I'd fix caller ID spoofing. And you need to give safe harbor to companies making the calls, and the telephone companies."

Response: None.
Four witnesses at the meeting, two running businesses have fallen through the TCPA's cracks. Additionally, a consultant and a tech expert. House Representatives sharing what their constituents, i.e., voters, are telling them in the supermarkets, on the streets – as part of what is now the number one consumer complaint. Unwanted Robocalls.
Interesting that no House members shared what they've heard from marketing companies, or had any present. Maybe that's part of the problem too. For my money thought, no TCPA Solutions Providers were there...


Missing from the meeting - TCPA Solutions Available Today:
The Electrical Co-op with the reassigned numbers issue only knows what the FCC told him, "We acknowledge there is no definitive source for reassigned numbers." But he and everyone there were unaware that banks long ago requested accurate up to date cell number/owner information from the carriers for fraud protection. Companies providing the service are rapidly moving over to TCPA territory helping out. See Reassigned Number Solutions here.

The WellCare folks were unaware of Ringless Voicemail as a solution helping senior citizens receive critical cell phone informational messaging. As you know, ringless never touches the wireless network, has never been challenged or even generated a complaint in 5 years of use, doesn't charge the recipient for the call, and the FCC likes the technology as it's consumer friendly. See Ringless Voicemail here.

The consultant has written extensively on the TCPA about what he agrees with and what he doesn't. A big proponent of Express Written Consent, possibly he's unaware that proving consent is the #1 issue for TCPA Defense Attorneys. And Video Proof of consent is the only consistently effective protection against the new breed of "consent busting" Attorneys. And as the panel lady said again and again, "You're talking about the problem again, what is the solution?" See Express Consent Video Proof here.
A meeting about TCPA solutions without solutions providers.


Technical solutions well intentioned... but asks carriers to lose income.
We've got the technology to do it. To identify call signatures and find the spammers. The problem? Calls provide income to the carriers. So you're asking carriers to cut down on their piggy banks voluntarily. Probably never happen.
One thing is pretty clear – we've got to partner with the carriers and data companies in some way to make an impact. More TCPA laws equal higher spam volumes so far. The Googles, Microsofts, Comcasts for Internet Protocol calls, need to get involved, like immediately.
The guy that rings my phone four quick times, and when I call back, it's an Avatar pushing Police Benevolence contributions. Hey, the carriers HAVE to know who this guy is. Just look at the call patterns – and don't allow multiple quick hangups.
Spammers have had zero policing on the initiation or receiving of a phone call, with the exception of a few apps for cells to help eliminate bogus calls.


The Express Written Consent issue.
Remember consent for e-mail – and how well that worked? It didn't. Jumping through hoops because a company has all these stringent requirements. The solutions? If I sent out 5000 spam messages, Google and other spam filters would catch them pretty quickly. No more consent problem on email.
And even if you try for Express Written Consent on cell calls, the new breed of "consent busting" Attorneys will find a way to invalidate it. Video proof is the only present solution that has a perfect track record here. But again, no solutions providers attended the House meeting. So no video proof on consent mentioned.


"Today we're not here to solve problems. Just gather information."
Well on that front, the meeting was a rousing success. Beginning dialogue. Keeping the talks going. But as long as House members keep listening to constituents - making legislation for the poor consumer - which have been successful to a large extent - there will continue to be severe unintended consequences for businesses.
The TCPA Prosecuting Attorneys will continue to add this annuity - making billions, with a capital "B" on these laws. In the name of protecting the consumer.
With no end in sight.
To talk about TCPA Solutions, let's chat. My number is 561-317-3001, and I'll pick up. Companies have been asking lately, "Bob, do you actually offer products that solve these TCPA problems, or do you just write about them?" Yes, I have best in class products that solve these problems - and "Bob, how do you get paid?" - I have arrangements with the top companies to give me some bird seed to help keep me off the streets and pay for all this free drivel. So yes, if we end up working together, you get to have me thrown in for free ongoingly! - Bob
Some Solutions that could have helped these guys (right now!):