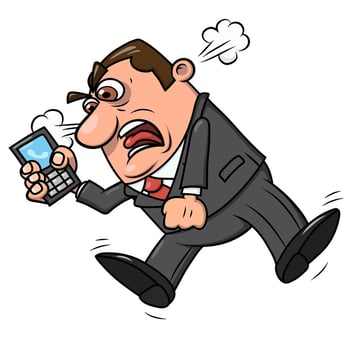 I can't think of a faster way to run afoul of the Call Prohibitions: faxing and texting. We still don't have any idea how judges will react to pre-existing relationship faxing - let alone unsolicited faxing. Other than things probably won't go well. And texting is clearly the quickest way to upset folks for significant fines. Marketers continue to be confused by "informational calling" vs "advertisement calling." Conducting a survey about your recent burger purchase may qualify as informational. But adding a fries promo coupon with the next burger purchase – you've got a clear unrelated advertisement. The whole message becomes a sales call - subject to additional telemarketing restrictions. Easy for legal predators to prosecute in the fax and text game.

Text and Fax recipients are happy to challenge your Legal Standing.
And Judges interpret these cases however they want. Usually hopelessly slanted for the consumer. One guy never opted out of text advertising when presented with sixty opportunities to do so. The Judge said it didn't matter. It's still the company's fault – because two of those texts contained unrelated advertising.

Class action certifications have been O.K'd after the legal expiration date through little-known loopholes and shenanigans. Still no luck for companies looking for quick dismissals. So settlement offer checks continue to be returned in favor of class action certification.

And then their's the latest text restriction warnings from the FCC.
They've made it clear they'll prosecute texters and faxers alike. The consumer or business recipient is always right. And you, as the source of the fax or text will pay - one way or another.

So why would a company want to text or FAX anyway?
Beats me. There's no faster way to initiate months of negotiations with a single consumer. One smart guy or girl represented by a cookie cutter law firm specializing in the TCPA money machine.
Like I tell my 16-year-old daughter, "Nothing good happens after 11:00 at night driving around with your boyfriend." – Marketing companies might do well to ask themselves, "Can anything good happen with robocall texting and faxing?"

Think twice before your sharp marketing team approves fax and text campaigns.
The larger the company, the bigger the danger, fines, and court cases. CEO's think their competent compliance and legal departments have these campaigns under control. But nobody knows how risky outreach communications will be interpreted by the courts. Under relentless pressure from marketing and sales – that same CEO may find themselves embroiled in a brutally expensive lawsuit. Time-consuming. Stressful. Bad publicity.

6 Tips for Safer Marketing Communications.
If you're B2B, try identifying and scrubbing out those cell numbers. You don't want to contact those wireless numbers anyway. That's where most of the call prohibition suits are.

Try Ringless Voicemail for your consumer campaigns. It doesn't touch the wireless network, doesn't charge for the message, and remains the only viable cell penetration program that hasn't been challenged in court.

Scrub for reassigned numbers on permission based calls. Judges say you're responsible after the first call. And everyone makes more than one call.

Have proper wording on your website tip-in forms. It's easy and can save you millions: "This gives us permission to call you via live operator, pre-recorded messaging, text messaging, recorded message. This permission to contact does not constitute a condition to buy."

Get video proof on your leads and customer consents. It's the only way to actually capture Express Written Consent that'll hold up in court.

Try Litigator Scrub. Getting rid of the 100,000 or so previous DNC and TCPA court filers. These are the pros causing most of the legal headaches for marketers.
Don't be enticed by some marketing company into the bright lights of faxing and texting.
Your products and services are too precious.
Company liability exposure too great.
It ain't worth it.
Editors Note: Please don't inundate me with how powerful texting and faxing can be. In the hands of individual experts, years of experience in exact wording, opt-outs, frequency considerations, audience selection and other factors - including attempts at bulletproof express written consents, short codes and FTEU (Free-To-End-User) texts - these outreach initiatives can be wildly successful. For the rest of us zoo-goers: Stay behind the glass at the Lion cage. Don't hand-feed meat to the bears. Don't try and ride the Emus. And steer clear of faxing and texting!
For more information on safe Do Not Call and Telephone Consumer Protection Act marketing methods, call my personal line at 561-317-3001 or email me here.
Related Articles: